Posted on February 17 2019.

On a bareboat charter you have the choice to go ashore for your breakfast, lunch or dinner. We have many nice restaurants in the BVI anchorages for great meals and entertainment. But if you are in a secluded anchorage or just want to stay on board, it's fun to prepare a tasty meal for yourselves on board. This does require some planning with provisioning. But keep in mind, you're on vacation!  Who wants to be in the kitchen (galley) the entire time?  We suggest you simplify your menu by using the BBQ a lot and sticking to one-pot meals. 
Our Bareboat Charter boats come with standard galley (kitchen) equipment – dishes, cutlery, mugs, glasses, bowls, pans, cutting boards, utensils etc. When it comes to cooking appliances, you will find a stove with an oven and a fridge on every charter boat, whereas larger boats will also have a freezer, microwave, or even an extra fridge in the cockpit or an ice-maker.
MEAL PLANNING

It is a great idea to plan your meals in advance to remove the decision making while grocery shopping and each day of your charter. If you plan ahead of which restaurants you want to visit and how many meals you will have on board plus what everybody in your group likes and dislikes, the workload can be shared. Prepare a meal plan for your group! Once you have a list of all the meals you would like, you can generate your shopping list with the exact number of items you will need to purchase, or you can choose to have provisioning prepared for you. Don't forget to include snacks and drinks on your shopping list.
PROVISIONING
It is recommended to provision your boat upon arrival for the entire vacation. There are some grocery shops along the way, if you forget something, but you probably rather spend your time on other things than grocery shopping. You can do the provisioning yourselves and go to our local supermarkets or you can order your food in advance.
SHOP YOURSELF ON ARRIVAL
Our charter base is just minutes away from the Largest Supermarket on Tortola, making shopping on arrival easy. Fresh produce can be limited in the islands, so if you shop yourself, you can ensure you get only the freshest of products. You will also be able to take advantage of special offers, only available in store. At the major supermarkets there are taxis waiting, who can bring you together with your groceries back to our base.
ORDER YOUR PROVISIONS IN ADVANCE:
Ordering your food in advance, means that you have less to do when you get here! If you wish to purchase Package Provisions follow this link to order from Bobbys Market Place:  If you wish to choose your own items, follow this link to order from Bobby's Market Place Shopping List:
You can also order online from RITEWAY or ONEMART.
Your provisions will be delivered to your boat, once you arrive. Deliveries can be made up to 10pm. Unfortunately, we cannot take delivery of goods in advance. You have to be on board to receive the groceries and store them away.
FOOD STORAGE

Food storage space can be limited on the charter boat. All our bareboats have a cooler for your drinks and a fridge for your fresh foods. But check before you provision if your boat has other storage like an extra fridge or a freezer. There are plenty of empty cabinets to store your dryfoods and cans etc that does not need cooling.
PLAN LIGHT LUNCHES AND STOCK UP ON SNACKS


During the day it can be warm in your cockpit, so light meals are recommended over heavy warm meals.
Plan salads with a protein like chicken or fish/seafood or prepare a nice sandwich. Bread can become stale after a day or two, so buy wraps or half-baked breads that can be finished in your oven.
Another reason to make light lunches is that you probably want to snack during happy hour. Make a nice Caribbean cocktail for everybody and put some vegetables with dips, chips, cheeses or other snacks on the table. Don't forget cookies, sweets, chocolate etc for the sweet-tooths
USE YOUR BBQ

The best cooking equipment on board is your BBQ. There is nothing better than flipping burgers or other foods in an anchorage while enjoying the surroundings, crystal clear waters and the nice cooling breeze. Grilling can be so much fun. You'll appreciate eating healthier meals and, even better, the lack of clean up necessary after grilling.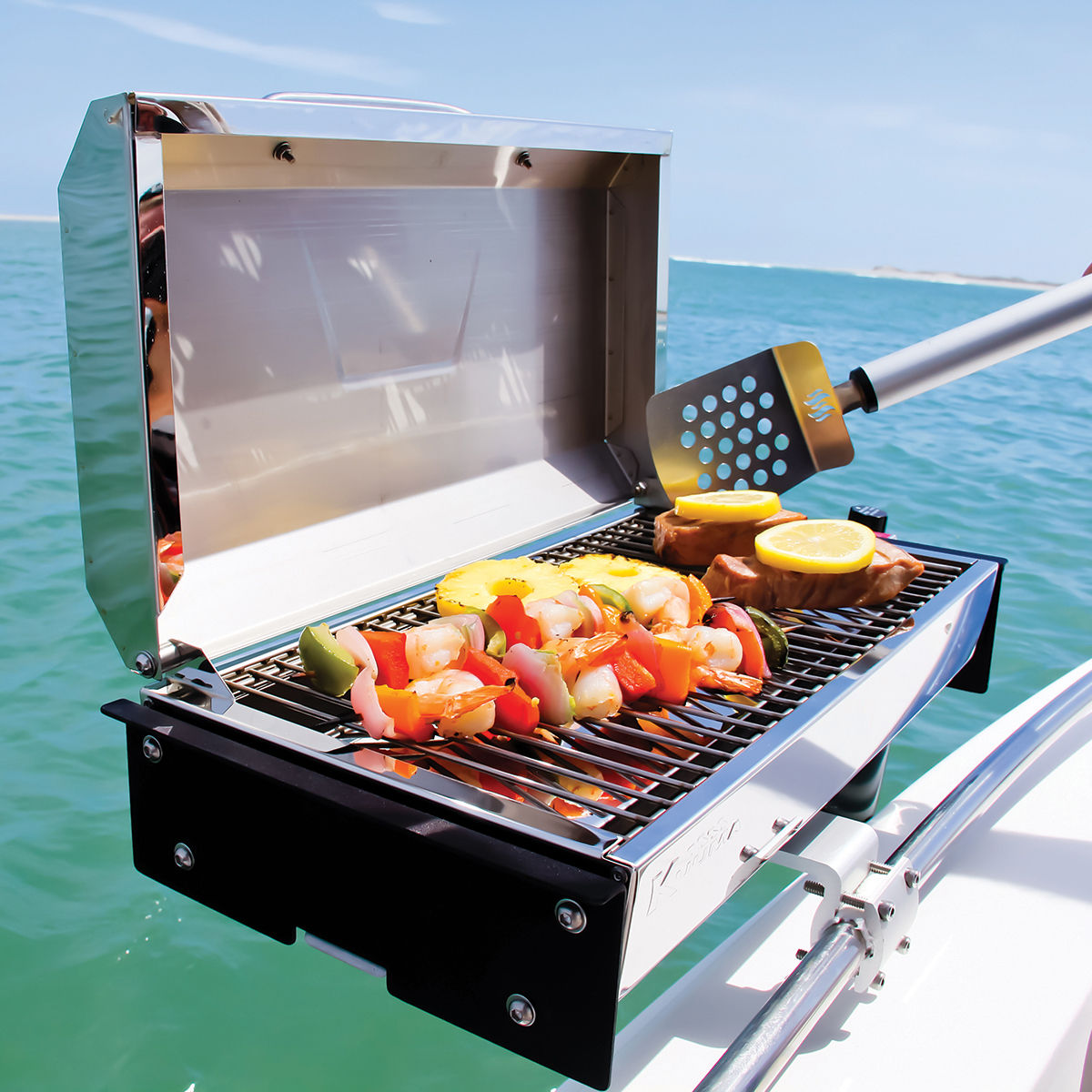 Use the BBQ for all your meats, fish and vegetables, but also use it as an extra oven.
Please think of your safety while using the BBQ: Never forget that grilling aboard a boat is different from grilling in a backyard. The boat is moving—you never know when a rogue wake will rock the boat, even in the most placid anchorage. Never grill underway, do not leave a lit grill unattended in the cockpit, and make sure the grill is secure so that both crew and boat are safe from heat and flames.
RECIPES

Cooking on a boat is different, but boat-friendly recipes make great meals on your cruising adventures not just possible but easy (they're great for camping and RVing, too): THE BOAT GALLEY
Ahi Tuna Poke and Mango Salad

Prep Time 15 minutes
Servings 1 salad
Ingredients
2 tablespoons vegetable oil
1 tablespoon soy sauce
Juice of 1/2 lemon
1/2 teaspoon prepared wasabi
4 ounces sushi grade tuna diced in large chunks
1/2 mango diced in large chunks
1/2 cup store-bought seaweed salad
1/2 teaspoon black sesame seeds
2-3 cups loosely packed spring lettuce mix
1/2 avocado sliced
Salt and Pepper to taste
Instructions
In a small bowl, whisk the vegetable oil, soy sauce, lemon juice and wasabi until well blended.
Add the tuna, mango and seaweed salad to a bowl and drizzle with 1 tablespoon of the dressing. Sprinkle with the sesame seeds and stir to coat.
In a different bowl, add the lettuce and avocado and top with the tuna mixture. Drizzle with more dressing as desired and sprinkle with salt & pepper and more sesame seeds if desired. Serve immediately.
---
COOKBOOK

Capt. Jan Robinson has cruised the Islands of the Caribbean for more than twenty years collecting recipes for her many cookbooks.
Her famous cookbook Ship to Shore offers a variety of recipes from charter chefs, you easily can make on board. Traditional favorites, innovative ideas and exciting dishes from around the world have been created by yacht chefs with easy to find ingredients. You will find meal planning a snap.
Buy this cook book for $14.95 at Amazon
---